Sale!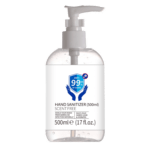 Hand Sanitizer, Fragrance, Free, 17 oz
Price:
Description
Alcohol: 75% Ethyl alcohol
Size: 500 ml (17 Fl Oz)
Purpose: Antiseptic 99.99%
Uses: Alcohol sanitizing spray to spray directly on hands to help reduce bacteria that potentially can cause disease. For use when soap and water are not available.
Warning: For external use only. Flammable. Keep away from fire. Store in a cool and dry place. Avoid contact with eyes. Keep out of reach of children. People with sensitive skin are not recommended to use this product or should do a patch test before use.
Inactive Ingredients: Water (Aqua).
Shields your hand from germs and infection naturally
Keeps your hands clean and hydrated
Directions: Please spray on hands to cover all surfaces and wait a minute until dry. Use as needed. For children under 6, use with adult supervision. Not recommended for infants.
Store at normal temperature and avoid humidity.
Keep out of reach of children.